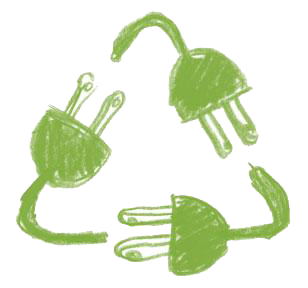 Doing our part...
SuperStorage has gone green!
We collect your electronic waste (see below for qualified e-waste items) so it doesn't end up in the landfill. 
We also recycle cardboard moving boxes for re-use - free to the next customer! 
So bring your e-waste and re-usable cardboard moving boxes to us anytime during normal office hours and we'll help you help the environment!
Additional Services:


• E-Waste Recycle Center on the premises - open to the Public.  We will collect electronic waste for recycling by certified e-waste recyclers for FREE.  E-waste that we collect includes computers, monitors, keyboards, mice (the electronic kind

), printers, power cords, TVs, VCRs, fax machines, copier machines, disc players, stereos, portable radios, cell phones, Personal Digital Assistants (PDAs), etc. - even microwave ovens!  Call for a complete list of acceptable e-waste items.
• Giving Back – A portion of the proceeds from the e-Waste collection effort goes to charity.  We have chosen Project SurfCamp in Morro Bay, which offers ocean experience based therapy and experience to kids and adults with special needs


• Cell Phones For Soldiers Program - We are a cell phone drop-off site to help American soldiers call loved ones at home while they protect the USA.


• Free Recycled Cardboard Moving Boxes - We collect your used moving boxes (even if you are not our customer) and give them away free to our next customers to help keep excess waste out of landfills!  Even though we sell new moving boxes, we believe that conservation is an important social responsibility and we want to do as much as we can to minimize our impact on the environment.  So, let us help you recycle and we'll both help the environment!  If you have left over moving boxes that are clean enough to reuse, bring them in and we'll do the rest.
Thank you for your help.
If you prefer new boxes, you may order online from our supply page or visit our facility where we carry full inventory.